Wall Ties
Remedial Cavity Wall Ties
According to the Building Research Establishment, 2 million properties suffer from wall tie corrosion or failure and are in need of specialist remedial wall tie replacement. Often the problem is made worse when insufficient ties have been used during construction.
The absence of effective wall ties will ultimately result in the failure of a wall's structural integrity and its probable collapse under high wind conditions.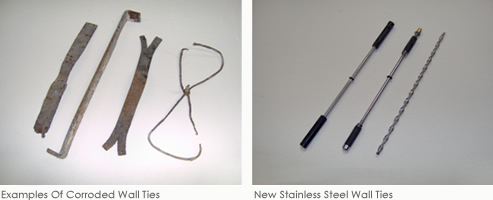 Replacement Ties
Each property is surveyed using a metal detector to locate the ties and an endoscope to examine their condition.
Where replacements are necessary, Red Rose Preservations Ltd select from a range of stainless steel wall tie designs, either mechanical or resin fixed, to suit the type and condition of the masonry involved.

Red Rose Preservations Ltd can also stabilise cracked brickwork using helical stainless steel rods that are installed into the mortar bed joints and install lateral restrains to external walls to tie them back to the internal floor joists.


Home | Timber Treatment | Wall Ties | Structural Waterproofing | Damp-proofing | Contact us | Sitemap