Damp-proofing
Dampness in buildings
Manifestation of dampness in traditionally built buildings may become apparent in numerous forms. It may take the form of mould growth, damp patches, areas of staining, decorative spoiling, decay to woodwork or water running down surfaces.
Unfortunately it is not always easy to identify the origin of dampness although superficially the initial problem may appear relatively straightforward.

Difficulty can also arise where dampness may have more than one origin, for example, rising dampness, low level rainwater penetration and defects in the floor/wall junction may occur close to floor level.
The presence of rising damp needs to be carefully diagnosed in order to ensure that this is not misdiagnosed or confused with other sources of dampness.
Red Rose Preservations surveyors are specially trained and are highly experienced, and are able to undertake these inspections and determine the presence of rising damp.
Red Rose Preservations can offer the full range of the latest modern treatments for damp proof course failure and our surveyors will assess which system is most appropriate for your particular property.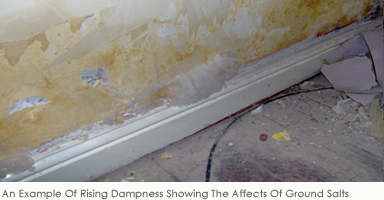 Home | Timber Treatment | Wall Ties | Structural Waterproofing | Damp-proofing | Contact us | Sitemap